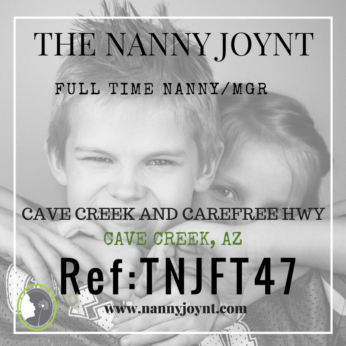 Ref Code: TNJFT47 Full time nanny/manager
Nanny
Cave Creek and Carefree Highway
Posted 2 weeks ago
Description
Full Time Nanny/Household Manager
Cave Creek and Carefree Highway
Start Date ASAP
Ref Code: TNJFT47
The Nanny Joynt is seeking an experienced, loving and compassionate nanny to assist a newly widowed father in caring for his two children ages 7 and 9. This position will be full time
Monday – Friday from 6am – 5pm during the school year 

Monday – Thursday 6am – 5pm during the Summer
During the school year the children will be in school from 9am – 3:30pm and the nanny will have free time to do personal errands, work out, doctors appointments etc. You will have a lot of flexibility and freedom during the day!
Open to Live in or live out. Nanny MUST live within 10-15 miles to be considered for live out.
This is an outstanding opportunity and we are seeking the BEST of the BEST for this family! The position is offering $46,000 – $52,000 per year with paid vacation, holidays, and use of family car! He is also open to offering a health insurance stipend.
This family would like to find a nanny who is fun and engaging and most importantly has a great connection with the children! Reliability and commitment is incredibly important as the father would like to provide consistency for his children who have recently and suddenly lost their mother. Their mother was a super involved stay at home mom who handled everything relating to the household and children. The ideal nanny for this family is someone who is active and enjoys playing and engaging with the children. Someone who is not afraid to go outside and play baseball or go for a swim with the children! Someone who can be firm with discipline and set and establish boundaries for the children would be best. The ideal personal for this position will be able to efficiently keep the home running smooth. 
Child related duties will include getting the children up and ready for the day, preparing and feeding breakfast, preparing lunches, taking the children to school, picking children up from school, homework assistance, reading, planning fun activities, and playing and interacting with the children. Taking to after school activities, researching camps or other activities to get the children involved in.
Household Management duties family laundry, errands, grocery shopping, pet care, family meal prep, light housekeeping, organizational tasks, shopping for child related items, helping with decoration projects as they just built a new house, and personal assistant duties. This family does employ a housekeeper bi weekly so no deep cleaning will be required.
They have a super sweet German Shepard who will need let in/out during the day, fed, water.
The ideal candidate for this position is trustworthy, intelligent, organized and great with children.  This dad is so sweet and doing a great job as he navigates this time of his life. He is extremely fair and generous and is looking to hire a wonderful nanny who will become part of their family and a great positive and consistent influence in his children's lives. He wants the person assisting with his children to know she is appreciated.
They are looking for a LONG-term commitment for years to come.
To be considered for this fantastic opportunity please email your resume to trisha@nannyjoynt.com
Please use Reference code – TNJFT47 in the subject line. We are looking to get candidates lined up for this position ASAP.
---
Location
---