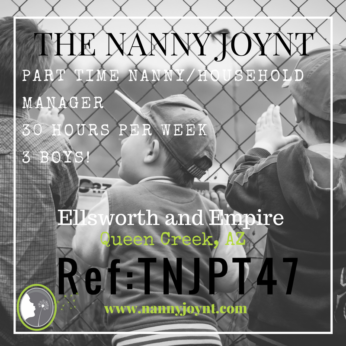 Ref Code: TNJPT47 Awesome Nanny/household manager Queen Creek
Household Manager
Ellsworth and Empire Queen Creek, AZ
Posted 5 months ago
This position has been filled
Description
30 hour per week Family Assistant/Nanny
Start Date: Flexible
Crossroads: Ellsworth and Empire, Queen Creek
Ref Code: TNJPT47
The Nanny Joynt is excited to share an incredible opportunity to work with a fun and active family with three boys ages 6, 12, and 14 seeking a part time 30 – 40 hours per week household assistant/nanny. This family hopes to find a candidate who is energetic, motivated, positive, and fun! Someone who is proactive, organized and self motivated in terms of assisting with household/family related tasks.. It is extremely important that the nanny they hire be available for afternoons/evening and some weekends for date night.
The schedule will be: Monday  – Friday 1pm – 7pm
This family employs another full time nanny so there can be some flexibility. We are looking to find the perfect addition to this home who can help take some of the responsibilities off their current nanny and allow for her to have some time off. You MUST be a team player to apply for this position and flexibility is key. 
The position is offering $18.00 – $20.00/hour with guaranteed 30 hours per week, paid holidays, paid vacation, and gas reimbursement!
The ideal candidate for this family is someone who enjoys keeping a home running smoothly, a great multi tasker, someone who is detail oriented and is good with open communication. The ideal nanny will be able to create a good balance of structure and fun for the children, someone who can assist with homework and keep the kids on track, someone who enjoys being active and playing and can keep up with 3 boys!!
This family does have pets and the nanny MUST be comfortable and enjoy animals! They have a great dane, a min pin, 2 indoor cats and a turtle!
Child related duties will include picking the children up from school or various activities, transportation to after school activities, overseeing homework, preparing snacks, researching camps or activities to keep them busy in the summer.
Household responsibilities  will include helping with laundry, family meal planning/prep, grocery shopping, errands,  general house tidy up, maintaining a clean kitchen, load/unload dishwasher, vacuuming, scheduling and overseeing contractors or service providers as needed, and organizational projects. The other nanny assists with these responsibilities so it will be a team effort. This family does employ a housecleaner so it is not a housekeeping position just helping to maintain cleanliness and order within the home. Mom's motto if you see something that needs attention just clean it up 🙂 They want someone with a can do attitude who is willing to pitch in to be helpful where needed.
This is an incredible family who has employed their current nanny for the past 5 years!!! They work hard to set realistic expectations so that success is achievable, they are very open with communication and happily welcome people into their lives as part of the family. They recognize that trust and respect are a two way street and want someone to love and respect their family and thus offer the same in return.
They are seeking a LONG term commitment.
To be considered for this fantastic opportunity please email your resume to trisha@nannyjoynt.com please use Reference code – TNJPT47  in the subject line.
---
Location
---