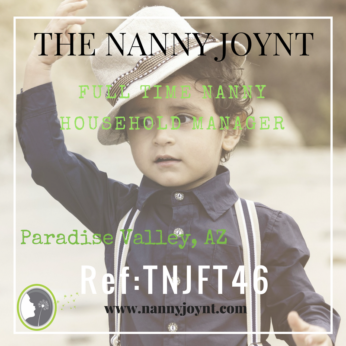 Ref Code: TNJFT46 Full time Nanny for 4 year old
Household Manager
Cheney Dr and Scottsdale Rd
Posted 4 months ago
This position has been filled
Description
Reference Code: TNJFT46
Full Time Nanny Paradise Valley
Start Date: April 2018
Cheney Dr and N. Scottsdale Rd
The Nanny Joynt is excited to share an incredible opportunity to work with a wonderful family with a 4 year old little boy as they relocate to Arizona from CA! These professional parents are seeking an experienced and quality nanny to assist with their son. The schedule will be full time guaranteed 40 hours per week.
School year Schedule:
Monday – Thursday 2:30pm – 7:30pm 

Fridays 2:30pm – 10:30pm – with availability for full days when school is out or there are half days.
Summer Schedule:
Monday – Thursday 8am – 5pm

Friday 8am – 9pm
Weekends:
One day every weekend, preference is Saturday 9am – 5pm.  Switching Saturday/Sunday can happen and be discussed as well as a weekend off in the month if schedules permit. 
Overnights/Travel: Are required as mom and dad travel for business  — some weekend travels and some extended trips (7-10 days) one to three times/yr. They would also like for the nanny to be able to travel with them on occasion. 
The schedule is done a month in advance.
This position is offering $18-$20/hour with room for growth! Raises and bonuses! This position is also offering earned PTO, paid holidays! This family offers a generous nightly rate for overnights on top of your hourly pay for the 12 hour day!
The ideal candidate for this family is a mature and responsible household manager/nanny who is extremely active, engaging, dedicated, professional and a great communicator! Someone who loves being a nanny and is open to a somewhat hectic schedule. The perfect nanny for this family is someone who takes great initiative and is resourceful.
The 4 year old little boy is super happy and energetic! He loves to stay busy doing activities, outings and learning! He has loads of energy so it is important for the nanny to enjoy staying active and being out and about!
Child related responsibilities:  The little boy is the top priority for this position. The Nanny will be picking the child up from school during the school year, taking to after school activities, feeding meals and snacks, planning fun outings, playdates and activities, 24/7 care while parents are traveling.
Household related responsibilities: Will include general tidy as needed, kitchen clean up/dishes, assistance with family laundry, light meal prep, grocery shopping, errands, organizational projects. This mom is also very involved in caring for the home and keeping things running smooth. This family employs a housekeeper and are a neat and tidy family.
This family has one dog – a Chow so please be comfortable with dogs to apply.
Nannies this is a fantastic opportunity to work with a wonderful family who truly treats their nanny like GOLD! They have had a couple nannies during their son's life and have had the most incredible relationships with them! They are very sad to be leaving their nanny in CA but excited to find a wonderful nanny to become part of their family here in AZ!
If you are interested and meet the requirements above, please comment below  and email your resume to trisha@nannyjoynt.com with "TNJFT46" in the subject heading.
---
Location
---