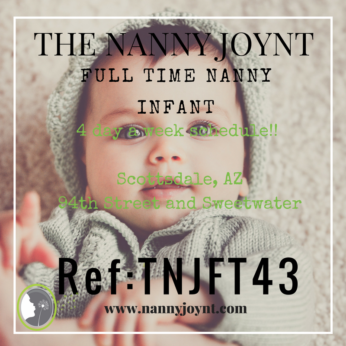 Ref Code: TNJFT43 – Full Time Infant Nanny Scottsdale
Nanny
94th Street and Sweetwater
Posted 3 weeks ago
Description
Reference Code: TNJFT43
Full Time Nanny Scottsdale
Start Date: End of February 
Sweetwater and 94th Street 
The Nanny Joynt is working with a wonderful family in Scottsdale seeking an experienced, nurturing, responsible and reliable nanny to care for their baby boy who will be 12 weeks old at the start of the position. The schedule will an ideal 4 days per week Monday – Thursday!!!
Monday and Thursday: 8am – 5pm
Tuesday and Wednesday: 8am – 5:30pm
They are offering a competitive hourly rate that will be based on candidate experience and references. Hourly rate will range from $16/ – $18/hour with 36 guaranteed hours per week! They are open to adding a half day on Friday if the nanny prefers a 40 hour work week.
The baby boy is currently 8 weeks old and has some mild reflux. He is on medication but can be a bit fussy. He LOVES to be held and snuggled. The ideal nanny for this family will be someone who is mature and experienced with young babies. Someone who is knowledgeable on infant and child development who can help guide and teach these first time parents as they encounter each new phase with their little one. They would LOVE to find a bilingual or trilingual nanny (NOT REQUIRED). Russian would be their first preference but they are completely open to other languages as well. The best fit for this family will be someone who is organized and enjoys a tidy working environment.
Child related responsibilities: General care for the baby, feeding bottles and solids (when the time comes), diapering, playing, reading, going on walks, maintaining healthy sleep schedule, working with baby on developmentally appropriate activities, helping baby to reach each milestone, effectively communicating the day's events and activities with the parents. As the baby gets older they would love their nanny to take the baby on outings, playdates, to the library, walks, parks etc.
Household related responsibilities: This position is strictly childcare related responsibilities including washing baby bottles/dishes, maintaining clean and organized baby areas, stocking necessary baby items in nursery and letting parents know when things are running low, baby laundry. It would be a huge bonus if the nanny they hire enjoyed cooking and was able to assist with light meal prep for the family. This is a neat and clean family and they prefer a nanny who is tidy.
This family is looking for a really loving and comforting type nanny who is, kind, intelligent, thoughtful, and someone who is passionate about her career and babies.
Nanny MUST have prior recent infant experience to be considered for this position.  
This family has 2 dogs so nanny MUST be comfortable working with dogs. They have a pitbull and a yorkie. Both are very sweet and friendly animals who have adjusted well to the new baby! The nanny will not have any responsibilities pertaining to the dogs.
This is a fantastic opportunity to work with a fun and loving couple who genuinely want the BEST for their baby. They are extremely welcoming and are looking forward to inviting a great nanny to become a member of their family working as a team to provide the best care and love for their baby boy!
This family is seeking a minimum 1 year commitment.
If you are interested and meet the requirements above, please comment below and email your resume to trisha@nannyjoynt.com with "TNJFT43" in the subject heading.
---
Location
---