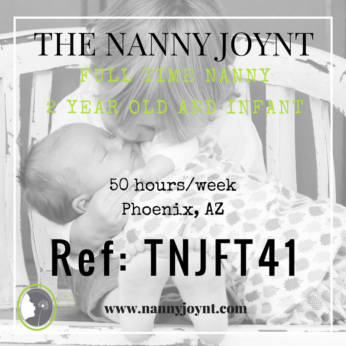 Ref Code: TNJFT41 – AMAZING opportunity Full Time Nanny Phoenix
Nanny
44th Street and McDonald Phoenix, AZ
Posted 11 months ago
This position has been filled
Description
Great Family seeking Part Time or Full Time Housekeeper
44th and McDonald
Start Date: ASAP
Ref Code: TNJFT41
Mon-Fri 8-3 or MWF 8-4.Full charge house manager/housekeeper. Ready to start ASAP.
The house is 4200 sq ft and has 4 bedrooms and 3.5 bedrooms however currently only 2 bedrooms and 2.5 bathrooms need daily cleaning.
Ideally they would also want this person to purchase groceries and prep food for cooking. Run Errands and handle scheduling maintenance for the home.
$20-$22/hour
**NANNY POSITION FILLED**
AMAZING opportunity for Full Time Nanny Phoenix
Start Date: ASAP – No later than Beginning of February
Ref Code: TNJFT41
44th Street and McDonald 
The Nanny Joynt is working with a wonderful family with a playful and smart 2.5 year old girl and a baby boy expected in March 2018.  We are assisting this family in finding an outstanding full-time nanny to join their family. The anticipated schedule will be Monday – Friday 7:00 am – 5:00 pm for a guaranteed schedule of 50 hours per week. Both parents are surgeons so some flexibility is required should a surgery run late. They are very respectful of their nanny's time and will do their very best to let you know should they be running late. Grandparents live very close by and can be back up as well! They would love to find a nanny who can make a long term commitment! Minimum 1-2 years who can grow with their growing family!
The position is offering $22/hour plus PTO, paid holidays, mileage reimbursement, and guaranteed hours. After 1 year of employment they are open to discussing offering health benefits!
This family is looking for a nanny who is truly passionate about childcare, someone with extensive experience with both infants and toddlers who really loves engaging with young children, is energetic, and is able to set firm boundaries while still being loving and caring. The toddler will be in school Monday – Thursday 9am – 3pm once the baby is born. The family plans to pull her out of school a bit before the baby is born so she has time to connect and bond with the nanny before baby brother comes. Nanny must be comfortable transporting both children for d/o and p/u from school which is nearby.
The perfect nanny for this family will be an excellent communicator, honest, takes initiative, is  a true professional nanny and most importantly LOVES being active and engaging with children! Someone who loves coming to work everyday is going to be the best for this family! 
Mom will be on maternity leave for 6 weeks after baby is born. She is super friendly and easy talk to. 
Child related duties will include overall care for the 2.5 year old and the newborn once he arrives in March 2018. Care will include getting the toddler up and ready for the day, feeding breakfast, drop off at school, pick up after school,  preparing and feeding meals and snacks, following a set schedule for the baby once born, changing diapers/potty training, planning and facilitating age appropriate activities and outings to help the children develop mentally, physically and emotionally as well as hit developmental milestones, playtime, reading, arts and crafts, bath time, dinner, keep daily log of diaper changes/meals/activities/etc. This family does cloth diaper so please be comfortable with that.
Household responsibilities will include children's laundry, cleaning up after meals and activities, cleaning/organizing toys and children's areas, loading and unloading the dishwasher, keeping a list of items that might be running low ie diapers, wipes, etc. This family has a beautiful and very tidy home and a nanny who is very organized and neat would be the best fit. They are in the process of hiring a Full Time housekeeper so the nanny can focus on the children and not the house.
This family doe not have any pets.
This is a wonderful family with two very loving, fun, and easy going parents who want the best for their children. They are a warm family who happily welcomes people into their home and they are excited to find their perfect nanny to assist with their babies! Nannies!! WOW What a job and incredible family/opportunity! This family truly values good employees and finds it important to take care of those who help them. They really value the relationship they have with a nanny and are excited to meet their perfect fit for their kiddos!
To be considered for this fantastic opportunity please email your resume to trisha@nannyjoynt.com please use Reference code – TNJFT41  in the subject line.interviews will begin ASAP!
---
Location
---