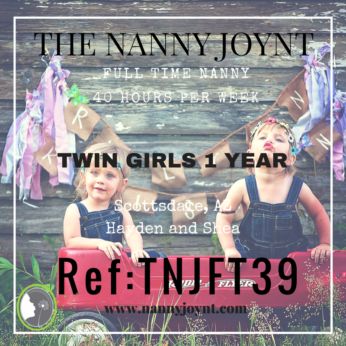 Ref Code: TNJFT39 Nanny For Twins
Nanny
Shea and Hayden
Posted 1 month ago
Description
Reference Code: TNJFT39
Full Time Nanny/Mother's Helper/Household Assistant  
Start Date: ASAP
Hayden and Shea
The Nanny Joynt is excited to share a wonderful position with a super sweet and involved stay at home mom of the most darling twin girls seeking a Full Time nanny/household assistant!!! The schedule for this position will be as listed below for a total of 40 hours per week. Some flexibility requested and they would love for the nanny they hire to be open to occasional date nights as needed.
Monday 10:30am – 6:30pm
Tuesday 11am – 7pm
Wednesday 10:30am – 6:30pm
Thursday 11am – 7pm
Friday 10:30am – 6:30pm
This position is offering $17/hour with guaranteed hours, paid vacation, paid sick days, paid holidays, health insurance, dental insurance and mileage reimbursement!!!
The ideal nanny for this family is someone who is trustworthy, loyal, honest, energetic, positive, hard working, self motivated, and a kid at heart! Someone who will treat their babies as if they were their own and always use their best judgement. This family needs a nanny who takes her job seriously and is dependable, on time, and committed to doing a great job each day!  Key characteristics for this position is someone who is extremely proactive, loving, energetic, enthusiastic about her work, and a great communicator! Someone who loves to engage, teach and play with young children is ideal. Mom is very involved and hands on so it is important for their nanny to be a true team player pitching in whenever and wherever needed. The nanny they hire must be comfortable working alongside mom as well as caring for the girls on her own as mom is often in and out.
Child related duties will include overall care for the 1 year old twin girls including but not limited to preparing and feeding meals and snacks, maintaining a healthy schedule, changing diapers/potty training, bathing, planning and facilitating age appropriate activities to help the children develop mentally, physically and emotionally as well as hit developmental milestones, playtime, reading, and effectively communicating the girls day with mom.
Household responsibilities – Children's laundry 1-2x/week, emptying diaper pail/trash daily, stocking the diaper bag, keep inventory on baby items such as diapers and bathing supplies, changing table/diaper caddy stocked, change girls' sheets once a week, dishes, toy pick up and organization, tidy kitchen such as dishes and wiping down counters and floors, healthy meal prep for girls including finding new healthy recipes and taking initiative to make them, fill the dog bowls, check mail, general tidiness of house. In a busy household with twins there is always things that need done. This family would love a helpful proactive nanny happy to pitch in when and where needed especially while the girls are napping.
They have one dog (a goldendoodle) who is super sweet!
This family is seeking a LONG term commitment of 1 year ++
Nannies!!! This could be YOUR unicorn family!!! This family is AMAZING!!! They treat their employees as if they are a part of their family. They are loyal to them and truly want them to be happy on the job. Mom is really great and loves open and honest communication! Their girls are so much fun and happy all of the time!! They are as cute as can be and super fun to be around!
To be considered for this fantastic opportunity please email your resume to trisha@nannyjoynt.complease use Reference code – TNJFT39  in the subject line. Interviews will begin ASAP
---
Location
---