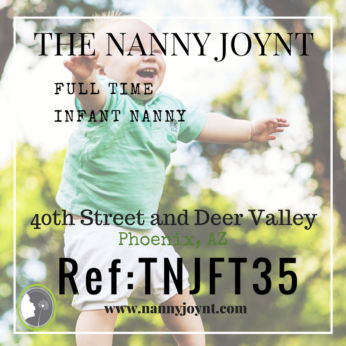 Ref Code: TNJFT35 Nanny 7 month old Desert Ridge
Nanny
40th Street and Deer Valley
Posted 1 month ago
This position has been filled
Description
Incredible nanny for infant in North Phoenix
Location: 40th Street and Deer Valley
Start Date: JAN 2018  
Ref Code: TNJFT35
The Nanny Joynt is beyond excited to share a wonderful nanny position available in North Phoenix with one infant who is currently 7 months old and the cutest, smiliest little guy! This family with dual working professional parents is seeking a Full Time 40 hour/week nanny to join their family and  help care for the baby while they work. The schedule for this position will be:
Mon: 

8:30 AM to 5:30 PM

Tue: 

8:30 AM to 5:30 PM

Wed: 

8:30 AM to 5:30 PM

Thu: 

8:30 AM to 5:30 PM

Fri: 

10:00 AM to 2:00 PM
Mom works from a home office a couple days per week in a detached casita. She is still nursing and will come in during the day to nurse the baby on the days she is home.
This position is offering $16 – $18 per hour Gross  paid holidays, accrued paid time off, mileage reimbursement and guaranteed hours!! This family travels approx 4 weeks out of the year in which their nanny would still be paid!
These fantastic parents are seeking a nanny who will become part of their family and an integral part of raising their sweet boy to be the best he can be! They value education and would prefer someone with a background in child development who understands how important these first years of life are for brain development. Their ideal candidate will be someone who is outgoing, reliable, caring, self motivated, organized, a great communicator, and engaging. Someone who loves their profession as a nanny who will be happy to be at work each day caring for their cute boy! A nanny who is comfortable with baby led weaning and cloth diapering is a must. Preference would be for a nanny who is bilingual and or knows baby sign language as they would love to expose their baby to multiple languages at an early age. This is a preference however it is not a requirement.
Child related duties will include overall care of baby including but not limited to: feeding, diapering, bathing, facilitating a healthy sleep/nap schedule, helping baby hit each developmental milestone, playing/reading, walks, outings to baby classes, playgroups, parks, zoo etc. Cleaning up after self and baby, washing all bottles, child laundry including cloth diapers and baby linens, maintaining nursery organization and ensuring baby items are stocked as well as logging the baby's day by updating an APP.
Household responsibilities will include general clean up after self and baby, load/unload dishwasher, cleaning baby bottles and parts, occasional light meal prep and grocery shopping. An overall tidy person is going to be best for this position. This position does not involve housekeeping as they do employ a housecleaner. 
This family has two very sweet cats.
We are seeking a long term fit and they would love for their nanny to be with them for years to come! 
Nannies!!! This is an incredible opportunity to work with such nice parents who are LOVING every minute of parenthood! They prefer open communication and are so easy to talk to! They are a super down to earth family with clear goals and expectations for how they would like to raise their son however they are also always open to feedback and new ideas. They value education, fun and quality care for their child!
To be considered for this fantastic opportunity please email your resume to trisha@nannyjoynt.complease use Reference code – TNJFT35  in the subject line. Interviews will begin ASAP
---
Location
---