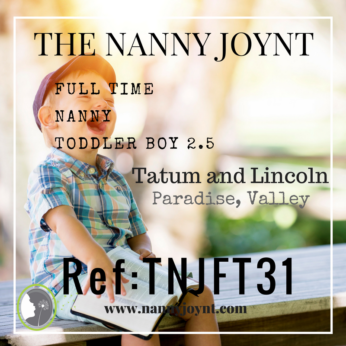 Ref Code: TNJFT31 Engaging Toddler Nanny Paradise Valley
Nanny
Tatum and Lincoln Paradise Valley, AZ
Posted 7 months ago
This position has been filled
Description
Nanny for wonderful family in Paradise Valley
Tatum and Lincoln
Start Date: August 1, 2017  
Ref Code: TNJFT31
Dream Job Alert!!! The Nanny Joynt is working with the sweetest family with a fun and happy 2.5 year old little boy and a soon to be baby sister due in September. This position will be full time 35 – 40+ hours per week and they are seeking a nanny who can give ultimate flexibility in terms of scheduling. Dad travels often and with a new baby coming they really want a fantastic nanny who can spend the days having loads of fun with their son while mom cares for the baby and gets some rest. The typical schedule will be M-F 7am – 3pm (starting in September once the baby is born) and will be 9am – 3pm before the baby is born. They will need a nanny who is open to working on the weekends as needed and willing to travel up to 4 weeks out of the year and do overnights when mom is traveling. Although this family requires a lot of flexibility they will also offer a great deal of flexibility in return. Should the nanny they hire have a prior commitment/appointment they can be extremely flexible.
The position is offering $18 – $22/hour with guaranteed hours, paid holidays, use of family car and contribution to health insurance!!!
The ideal candidate for this position will be very go with the flow and easy going. Both mom and dad are super easy going and enjoy a laid back atmosphere. Someone who is kind, patient, fun, energetic, engaging, playful,  loves music and enjoys doing educational play with children. A nanny who has a great head on her shoulders who can make great judgement calls when needed and is safety conscious. Ideally they would love someone who can provide healthy meals and snacks to help instill good eating habits in the toddler. A bilingual spanish speaking nanny would be a huge plus but is not a requirement.
Child related duties will include assisting with the morning routine of breakfast and getting ready for the day. Planning a fun outing or activity for the morning. This little one loves to be out and about and active. Outings such as train park, mall play areas, trampoline parks, museums, are a few of his favorites! Lunchtime, rest and more playing! Nanny must be comfortable swimming and taking the child to swim class getting in the water with him. Nannies… This little dude sounds like so much fun!!! He loves to play and engage with other children so playdates will be highly encouraged. The nanny will have minimal responsibilities with the infant in the beginning but would be ideal for the nanny to be comfortable caring for the infant for short periods of time.
Household responsibilities general clean up after self and the children. Assistance washing child dishes and organizing and cleaning up toy areas. They do encourage the toddler to help clean up and would like the nanny to continue to work on this with him. This family does employ a housecleaner so no cleaning will be required.
This family is seeking a 6 month commitment to start that may be extended to 1 year or longer!!
If you are an exceptional and engaging nanny who is happy to be flexible with your schedule and work with a truly incredible family who will appreciate and value you this may be the perfect position for you! This family is fun and loving and excited to welcome someone to their family! This is a very private  family who would appreciate a nanny who will be discreet and will require the nanny they hire to sign a confidentiality agreement.
To be considered for this incredible opportunity please email your resume to trisha@nannyjoynt.complease use Reference code – TNJFT31  in the subject line. Interviews and trial periods will begin ASAP!!
---
Location
---