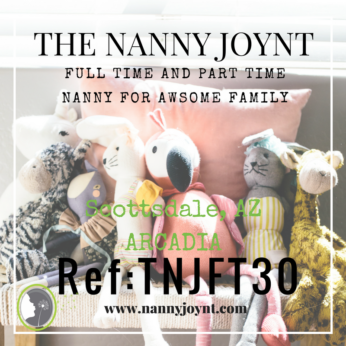 Ref Code: TNJFT30 – PT nanny for family in Arcadia
Nanny
85251 Scottsdale, AZ
Posted 5 months ago
This position has been filled
Description
AMAZING opportunity for Full Time and Part Time Nanny Arcadia
Start Date: End of June – Beg of July  2017  
Ref Code: TNJFT30
The Nanny Joynt is so excited to be working with an incredible family with dual physician parents and two sweet boys ages 6 and 20 months who are seeking both a Full time and a Part Time Nanny to assist with their children! This wonderful family is relocating from Cincinnati Ohio to the Arcadia area in June. They are flexible on the schedule options but will ultimately need coverage Monday – Friday 6:30/7am – 6:00pm and 4 hours on Saturdays. They would like to find a full time nanny whose schedule may be Monday – Friday 6:30/7am – 3pm or Monday – Thursday 6:30/7am – 6pm for a total workweek of 40 hours per week.
The Part time nanny's schedule will be one day per week 6:30am – 6pm, one evening per week 4pm – 9pm and 4 hours on Saturday. Ultimately they would love to find two outstanding nannies who can work as a team to give them the coverage they will need for their boys while they work. They may need occasional overnight coverage with ample notice and would appreciate a nanny who has the flexibility to stay overnight if needed. **if you feel you would be perfect for this position and have a preferred schedule in mind please email me with your ideal schedule**
The position is offering $17.00 – $20.00/hour with guaranteed hours, paid vacation for the FT position, and mileage reimbursement.
This family is seeking a nanny who is experienced and confident in her role as the nanny. They would love a nanny who is self motivated, always one step ahead, eager to assist with household related tasks pertaining to the children, someone who can research activities, camps, schools, classes, and playgroups for the children. Their ideal candidate will be very loving and encourage the children to pursue their interests and dreams. It is incredibly important for their nanny to be timely, uber dependable, and flexible. Ultimately they would like a nanny who can come in and LOVE their children, provide consistency and structure and help take some of the day to day responsibilities off their plates.
The perfect nanny for this family will be an excellent communicator, energetic, resourceful and most importantly LOVE her job as a nanny!
Child related duties will include overall care for the 1.5 year old and 6 year old. Getting the children up and ready for the day, breakfast and packing lunch, taking the oldest to school, feeding all meals and snacks, plan fun outing/activity for the youngest child, putting the baby down for a nap, picking the oldest up from school, talking to after school activities and classes, restocking any child related items and making sure the diaper bag is stocked, researching options for activities, classes, schools. Effectively communicating the day's events with the parents.
Household responsibilities will include children's laundry and occasional help folding family laundry, cleaning up after meals and activities, cleaning/organizing toys and children's areas, errands, grocery shopping, loading and unloading the dishwasher, keeping a list of items that might be running low, scheduling and being home for service people, dry cleaning, simple meal prep. This family will employ a housecleaner the nanny will be asked to simply maintain organization and order.
They are seeking a long term commitment!
Nannies!!! This is a dream family!!! They have employed nannies for several years and have some really incredible relationships with previous nannies. They treat their nanny like part of the family and appreciate and fully respect the role of a nanny. They know they cannot thrive without an amazing nanny to be there to help care for their boys. These parents are super easy to talk to, extremely fair and want their nanny to feel valued and appreciated.
To be considered for this fantastic opportunity please email your resume to trisha@nannyjoynt.com please use Reference code – TNJFT30  in the subject line. Facetime interviews will begin ASAP and in person interviews will begin Mid June.
---
Location
---