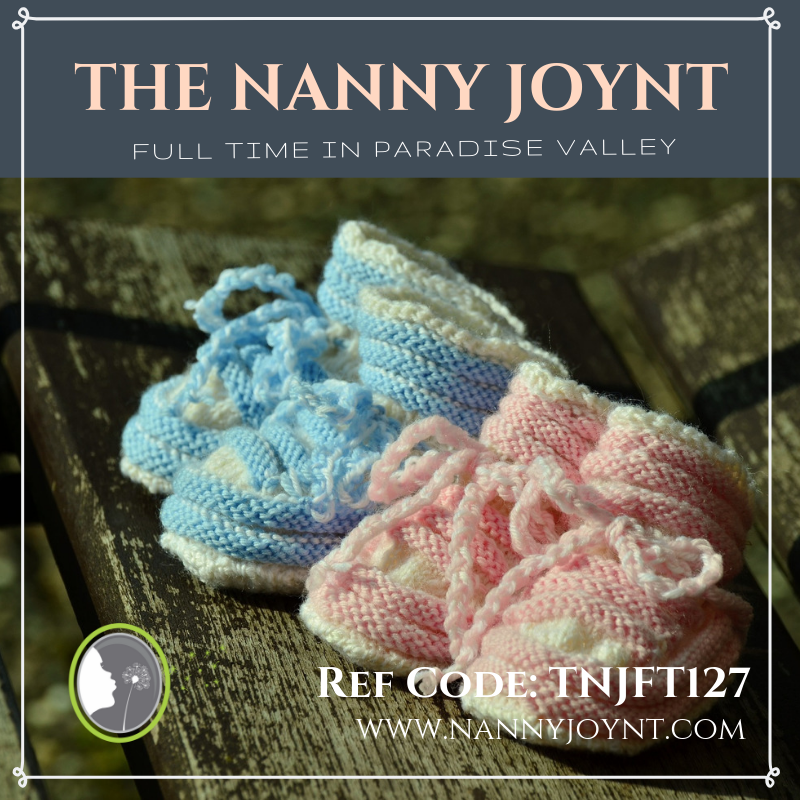 Ref Code TNJFT127 – Punctual, Reliable Career Nanny Needed for Infant Twins
E Lincoln Dr and N Hillside Dr
Posted 3 months ago
This position has been filled
Description
Experienced Nanny Needed for Infant Twins
Location: E Lincoln Dr and N Hillside Dr
Start Date: As soon as possible
Ref Code: TNJFT127
The Nanny Joynt is excited to share a fabulous position working with infant boy girl twins!  The twins are 6 weeks old. They are both breastfed, however, they will take a bottle. The twins also have two older brothers that could be in your care at times. This family is seeking a confident nanny who is able and willing to take care of all 4 children when needed. The boys have their own nanny and are in school full time.  The oldest is 8 years old and is very active in competitive dance, soccer and Kumon. He enjoys people and is very smart and empathetic. Their 6 year old son is very smart, very academic and is sensitive. This family would like their new nanny to be loving, caring and very experienced with infants.  Mom would prefer that the twins are on a schedule and would love to have a nanny who is experienced in infant care, no cry methods and maintaining a schedule for them.
This is a full time position.  The schedule will be 50 hours a week with guaranteed hours:
Monday through Friday 8:00am until 6:00pm (With flexibility to stay later if needed)

Some overnights and travel will be needed for this family. They travel 4-8 weeks per year to fun destinations!
This position is offering $20 -$23 per hour with paid vacations, paid holidays, paid sick days and guaranteed hours. The family is also offering Health Insurance contribution! 
Their nanny must be up to date on all vaccines and the family is willing to pay to have you get this completed before your start date if needed.
This family is looking for someone who is professional, career oriented and loves their position as a nanny.  A nanny who is proactive, intuitive, flexible, loving and always one step ahead is desired. Someone who is fun, easy going and has knowledge of all levels of infant care.  If you have experience with twins that would be great! They would like someone who is open and easy to communicate with and is also self motivated, punctual and very loving with their children.  Both parents work outside of the home, however, there will be times one or both could be home during your working hours.
Childcare related duties including but not limited to:
All childcare related tasks, diapers, baby food prep, cleaning up baby areas

Feeding, bottles, sanitizing baby items

Making sure the babies are reaching their developmental milestones, activities

Once the babies are old enough, outings, classes, etc.

Maintaining organization and making sure things the children need are taken care of efficiently

Maintaining a daily log, activities, sleep, etc.
Household responsibilities will include:
Shopping for the children's clothes, diapers, etc

Packing and unpacking for trips

Dishes, load/unload dishwasher, bottles

Laundry for the children

Wiping counters and kitchen areas

Keeping baby areas organized and tidy

Stocking all baby items
The family does have a house cleaner who comes once a week for deep cleaning.  Your main focus will be the care of the twins.
They are seeking a long term commitment and hope to find a nanny who will become an active part of their family for at least two years or longer!
This is a fun family who has a relaxed home and great environment!  Their older boys have had their nanny for the past 8 years and she is truly a valued member of their family. For this family being ON TIME is very important! Mom says, "Being on time is being 5 minutes early." Their current nanny is always 5 minutes early and has never called off sick.  They are hoping to find a nanny for their twins that is also dedicated and will become a member of their family as well. 
They really strive to keep a focus on communication and relationships with one another. Nannies, this family is so appreciative, kind and generous. They allow their nannies to do their jobs and understand how amazing it is to have the help and LOVE of a nanny in their home! This is a DREAM job and we are so excited for the nanny who is so lucky to work with this amazing family! 
To be considered for this fantastic opportunity please email your resume to trisha@nannyjoynt.com please use Reference code – TNJFT127  in the subject line. Interviews will begin ASAP
---
Location
---