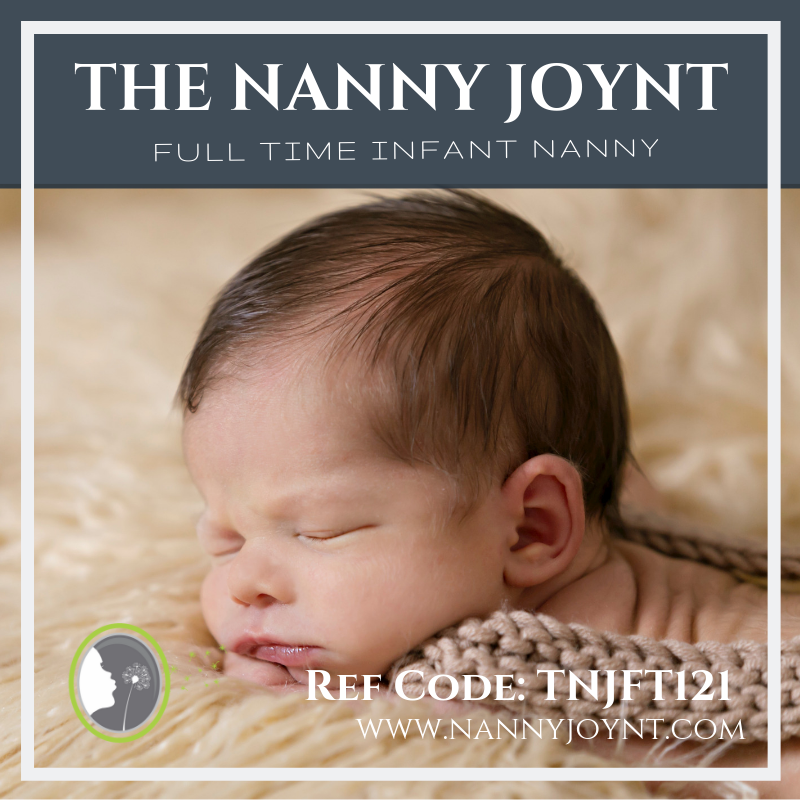 Ref Code TNJFT121 – Experienced, Reliable Nanny/Household Manager Needed for One Infant
E Camelback Rd and N Arcadia Dr
Posted 5 months ago
This position has been filled
Description
Seeking 2 Happy, Attentive Nannies for Sweet Infant Boy  
Location: E Camelback Rd and N Arcadia Dr
Start Date: March 18, 2019
Ref Code: TNJFT121
The Nanny Joynt is thrilled to share a wonderful full time nanny position available with one sweet infant boy! He is so far very happy, healthy and a good sleeper! (working with a NCS).  When their nanny begins he will be 8 weeks old. These new parents are seeking a nanny who will be loving, gentle, caring, experienced with infants and reliable. The nanny should be open to taking direction from the parents and be very responsible and proactive.  This family is seeking a full time nanny to join their family to help care for their sweet new baby boy!  Mom works full time at home and will be in and out during the day, however, she does work in a separate office in the house.
The schedule for this position will be 40 hours per week.
Monday – Friday 7:30am – 4:30pm (1 hour unpaid lunch break. Nanny will be free to leave home for lunch as mom works from home) 
This position is offering $20 per hour with paid holidays, paid sick days, paid vacation and guaranteed hours!
This busy, tech savvy family is looking for a nanny who is extremely gentle and loving.  They want their little boy to be loved and really cared for. The nanny should have newborn/infant experience and be easy to communicate with.  They want their nanny to be attentive, hands-on, laid back, calm, patient, organized, self driven & motivated. Someone who loves their career as a nanny and genuinely enjoys spending time with their precious son. Their perfect nanny enjoys helping their little one reach his developmental milestones and actively engages the baby throughout the day. They prefer a nanny who will effectively communicate the days activities with them. The best fit for this family will be a nanny who enjoys staying busy and is open to helping with household related tasks when there is downtime. A heart to serve and make the parents lives easier is much appreciated. 
Child related duties will include overall care of the baby including but not limited to: feeding, diapering, naps, log, helping baby hit each developmental milestone, tummy time, playing/reading, singing and walks. Cleaning up after self and baby, washing all bottles, sanitizing, baby laundry, maintaining the nursery and baby food prep. It is extremely important that their nannies can follow and implement the set schedule their NCS has in place. 
Household responsibilities will include light errands, laundry, meal prep, cleaning up, load/unload dishwasher, vacuuming each week and dusting. A nanny who will know what needs to be done and take initiative will be ideal for this family. It is very important that the nanny they hire truly enjoy the household side of this position and have a natural willingness and want to be helpful. 
This is a wonderful opportunity for a nanny who is seeking a long term position with a caring family! They want their nanny to be someone who uses logical thinking and can see ahead. They want to have a partnership with their new nanny and be certain that their son is well taken care of and that everyone is happy in their home. They are excited to meet a wonderful nanny to join them in helping out with their baby boy!
To be considered for this fantastic opportunity please email your resume to trisha@nannyjoynt.com please use Reference code – TNJFT121  in the subject line. Interviews will begin ASAP
---
Location
---